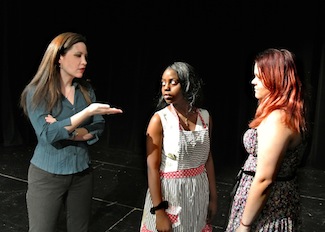 I have been a professional acting coach since the late 1990's and have extensive experience working with diverse groups of people, from seasoned professionals to beginners, senior citizens to kids, and large groups to the individual. I am passionate about the craft of acting and work as an adjunct professor at L.I.M. College and St. Francis College. As far as training goes, I have a Master of Fine Arts in Acting from the American Conservatory Theater and a Bachelor of Arts in Theater Arts from the University of California, Santa Cruz. I trained as a teacher's assistant at both institutions.
In my classes, I create a nurturing, non-competitive environment which allows the actor to explore the vulnerability necessary for artistic growth and great acting. I teach my students the importance of breath and trust in their bodies. I believe in unleashing impulses, getting out of one's head, specificity, staying open to and present in the moment, and the ability to respond spontaneously to what your partner is giving you. However, I also believe the emotional journey must be coupled with a solid intellectual technique including script analysis and understanding the relationships and given circumstances of a play. In the course of my coaching, I teach warm-up exercises to open the actor's instrument up to experience maximum creativity, imagination, and relaxation. Once the student is open and breathing freely, we explore character work and its accompanying adjustments. As we go along, I teach actors to examine the text and make informed choices. At the core of my work is the belief in empowering actors, in exposing them to many methodologies and in encouraging them to discover and create their own, unique, customized method of acting.
Feel free to email me at natasha.yannacanedo@gmail.com or call 646-391-6136 to inquire about acting coaching. I offer private lessons, as well as semi-privates and group classes by special arrangement.